The trial of former chief inspector of the Ministry of Public Security, Major General Tran Van Thanh, and his accomplices for falsely accusing many Da Nang leaders of corruption, scheduled to take place on July 20, has been postponed pending Mr.Thanh's treatment for hypertension.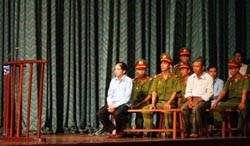 Some of the accused in court on July 20. Tran Van Thanh was not present because of illness. (Photo: danang newspaper)
Besides him, former Major Dinh Cong Sat, 44, of Da Nang City Police, former Lt. Col. Duong Tien, 53, former chief representative of the Ho Chi Minh City Police newspaper in Hanoi, and Nguyen Phi Duy Linh, 40, are facing charges of "abusing freedom and democratic rights to infringe on the State's interests and on the rights and legitimate interests of organizations and individuals."
The chief of the court, Nguyen Van Quan, said the medical staff attached to the court checked Mr.Thanh's health and concluded he is too sick to attend the proceedings.
Mr.Thanh had submitted to the court an application to delay the trial on account of his hypertension.