A farmer in Binh Thuy District in the Mekong delta city of Can Tho on April 23 won a lawsuit that favoured him against a decision made by the People's Committee of Can Tho City.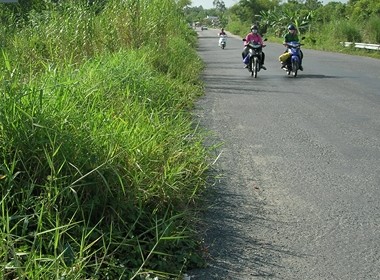 National Highway 91B cuts across land belonging to farmers in Can Tho City
In the lawsuit, the People's Court in Can Tho City ruled in favour of farmer Lam Van Sau, cancelling the decision of the People's Committee made on August 5, 2009 to take possession of farmer Sau's land in Long Tuyen Ward in Binh Thuy District.
In 2009, the chairman of the committee had signed a decision to take possession of nearly 2,200 square metres of Sau's agricultural land for the construction of National Highway 91B.
However, the authorities refused to compensate, saying that his land was located in the highway area that was under state management, so instead would provide Sau with 'support assistance' by way of paying 30 per cent of the land value.
In court, the lawyer representing the farmer produced enough evidence to prove Sau was the legal user of the land under the Land Law.
After considering all facts of the case, the court requested the chairman of the Can Tho People's Committee to pay full compensation to Sau in accordance with the country's regulation, adding that authorities had deprived the farmer of his legitimate rights and interest by denying rightful compensation.