Tran Van To, father of a four-year-old girl who was brutally beaten by her mom and her mom's lover in the southern province of Binh Duong, appeared in the General  Hospital to visit her daughter yesterday.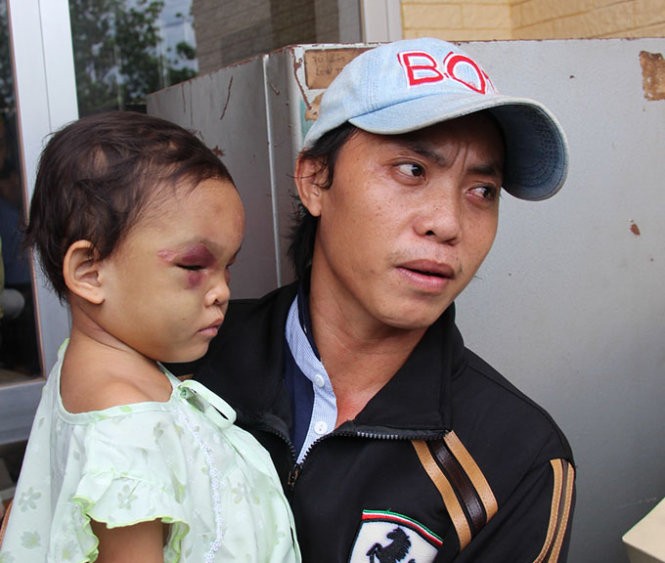 Tran Van To and baby girl Kim Ngan
32 year old Tran Van To from the Mekong delta province of Soc Trang confirmed four-year old Do Thi Kim Ngan to be his own skin.
He said the real name of the baby girl was Tran Thi Kim Ngan, not Do Thi Kim Ngan as statement of his ex-wife Nguyen Thi Thuy Trang and her lover Do Trong Minh, 27.
Police in Di An District of Binh Duong Province said that Do Trong Minh, 27, and his lover 26-year-old Nguyen Thi Thuy Trang were arrested after they brutalized their 4-year-old daughter, Do Thi Kim Ngan.
The couple will be charged with "intentionally inflicting injury on, or causing harm to, the health of other persons," pursuant to Article 104 of the Penal Code, police said.
In the police station, the couple said that they have lived together since 2010 but they have not yet registered their marriage.
Neighbors told police that Minh and his wife had often beat their daughter but no-one dared to interfere; however the beating last Friday was the most brutal by far that drove neighbors to inform police. The baby girl was taken to the provincial General Hospital for treatment
Though the baby girl can have rice porridge and milk a little, she is suffering headache and heavy bruises and injures, especially to her head and face.
According to police's investigation, Do Trong Minh who has beaten the girl many times is not her own father but her mother's lover.
Tran Van To said that he and Trang had got married for over ten years. They were living in the Mekong Delta province of Vinh Long and worked at a pottery company.
Two years ago, they separated but they have not finished divorce proceedings. They have another eight year old son who is currently living with his grandfather.
To said he was seeking his wife and daughter here and there but it was hopeless.
Now thank to newspaper articles on the case of his daughter, he can meet her.