A week after businessman Chung Minh filed a police complaint against local film producer Phuoc Sang, for appropriating VND3 billion (US$143,000) and a Mercedes car, the latter convened a press briefing on October 10 to clarify the situation.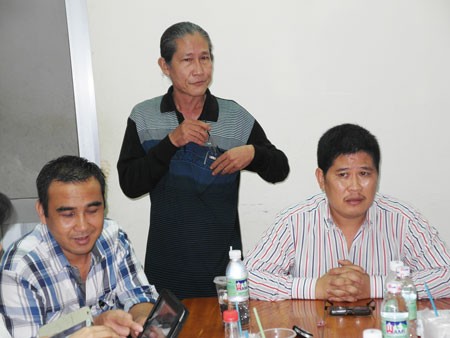 Phuoc Sang (R), Quyen Linh (L) and Lam Quang Teo (C, standing) at the press briefing ( Photo: SGGP)
In his complaint to the Binh An Ward Police in District 2 of Ho Chi Minh City, where Phuoc Sang resides, Chung Minh accused Sang of borrowing VND3 billion (US$143,000)  along with a Mercedes S350 model car with number plate 51A-127.02 and not returning either, and further lending the car to singer Le Hieu without his permission.
Film star Quyen Linh, a close friend of Phuoc Sang, was also present at the press briefing.  Phuoc Sang admitted to Chung Minh's accusations, explaining that the VND3 billion was Minh's contribution to his film project titled 'Yeu Anh! Em Dam Khong' (Love Me! Do You Dare?), to release during Tet 2013.
However, there had been some disagreement between Sang and Minh over creative aspects of the film and so the latter had decided to withdraw his money. Sang added that since he was facing financial difficulties at the moment, he would give the money back to Minh later. So far, he had already paid back VND300 million. 
Sang also presented many documents of his real estate assets to prove his financial ability to settle the debt.
The producer also admitted to borrowing Minh's car for his personal use in mid-May, and had asked a friend to return the car to Minh. "When Chung Minh asked me to return the car, I said I had left the car at a pawnshop in the hope of garnering sympathy from Minh and because I did not want to reveal the name of my friend," said Sang.
Sang spent a lot of time searching for the friend who was driving the above mentioned Mercedes car, but was unable to do so. 
The friend had actually turned up on his own initiative after the case was widely reported by the local media. On October 7, Sang returned the car to Minh, but still did not reveal the name of his friend, saying he wanted to protect him.
When questioned by reporters about the friend who had driven the car without telling him, Phuoc Sang refused to reveal his name.  However, actor Quyen Linh said Sang can't take responsibility of every person, referring to the friend in question. Linh called film director Lam Quang Teo, who is also a scriptwriter, to come to the meeting.
Film director Lam Quang Teo confirmed he had driven the car in the Mekong Delta for months, believing that Minh and Sang had many cars for their use. He apologized to Sang, assuring him that only he had self-driven the car and not let anyone else drive.
Businessman Chung Minh expressed concern over Le Hieu's statement, saying he felt hurt at Hieu's statement to the media, as it had tarnished his reputation as a businessman. Once again, Chung Minh said he would take responsibility for what he had written in his police complaint.
Soon after Phuoc Sang's press briefing ended, Chung Minh said if Sang and those concerned had not confirmed that singer Le Hieu had used his Mercedes, he would never have withdrawn his complaint.