The Vietnam Register of Shipping announced October 9 it will petition authorities to double the current penalization for automobiles which emit exhaust above allowable levels.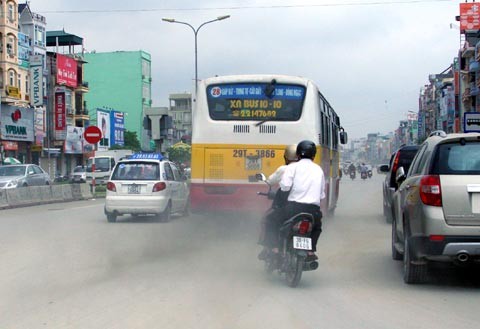 Every time they leave bus stops or speed up, buses emit inky-black smoke jets. Passers-by have to hastily swerve to avoid breathing the smoke. (Photo: Vietnamnet)
It will propose the maximum penalization be raised from the current VND200,000 to VND400,000 per violation.
The proposal will be drafted as part of a new decree on penalizations for traffic law violations, which is expected to be issued by the end of the year.
The Vietnam Register of Shipping measured bus, car, and truck exhaust levels in Hanoi from October 7-9 and reported that 34 out of 59 buses and 12 out of 34 cars did not meet requirements pertaining to exhaust emissions.