Fines on 152 road violations will be stricter from August 1 when Decree 46/2016 of the Government takes effect to replace Decree 171/2013 and 107/2014 on road and railway traffic.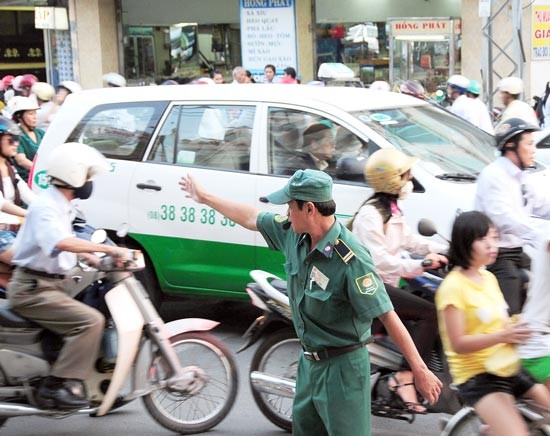 An activist attends in traffic regulation to reduce traffic jam during peak hours in HCMC (Photo: SGGP)
Speeding, overloading and violations of alcohol concentration and in expressways will see the fine increase and driving license withdrawal.
Specifically, auto drivers with the concentration of alcohol exceeding permissible levels will be penalized VND16-18 million (US$720-810) instead of VND10-15 million as before and have driving license revoked in 4-6 months. They are VND3-4 million and 3-5 months for motorcyclists.
Fine level will increase from VND200,000-400,000 to VND500-1,000,000 for driving motorbikes into expressways, additional punish is driving license withdrawal in 1-2 months.
Auto drivers controlling steering wheel with feet, zigzagging, weaving will be slapped VND7-8 million. If violators do not stop as per commands by traffic police or cause traffic accidents will have to pay VND18-20 million.
Those driving under the influence of drugs will see license revoked in 22-24 months or a fine of VND16-18 million to violators without driving licenses.
Cargo overloading will be fined up to VND8-12 million. Besides, drivers will have driving licenses tripped in 3-5 months and forced to repair consequences, unload overloaded and oversized cargo.