The Quang Ninh provincial People's Court on December 25 handed down death sentences on five foreign nationals on charges of illegal cross-border transport of drug and money.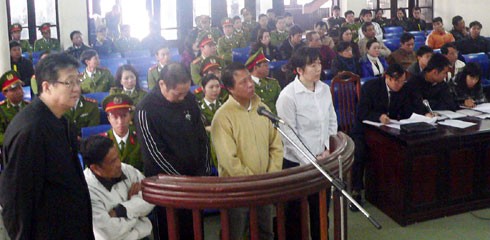 The five defendants at the court on December 25. (Photo: Vnexpress)
The five included 52-year-old Lu Minh Cheng and 42-year-old Wang Hui Lan from Guangzhou city; Ieong Chi Kai, 52, from Macau; and Chan Kwok Kwong, 57, and Ngan Chiu Kuen, 42, from Hong Kong.
According to the indictment, on April 22, 2008, Lu Ming Cheng was hired to transport two containers containing jeans and marijuana from Vietnam 's northeastern province of Quang Ninh to Canada .
On April 25, 2008, Lu Ming Cheng together with Ieong Chi Lai and Ngan Chiu Kuen arrived in Quang Ninh from Hong Kong and came to the office of Vu Hai Co., Ltd in Mong Cai town to collect the two containers. However, because they didn't bring any paper to prove their ownership, the company refused to hand over the containers.
By May 8, 2008, Lu and his accomplices, including Chan Kwok Kwong, Wang Hui Lan, Ngan Chiu Kuen, returned to Vietnam . Four days later, they were arrested while receiving the containers at the Vu Hai Co., Ltd. Nearly 8,000 kg of marijuana, over 19,700 pairs of jeans and over HKD1 million were seized on the scene.
During their two visits to Vietnam , the five illegally brought a total of HKD 1.1 million HKD and US$ 20,000 from Hong Kong into Vietnam without declaration at the customs.