Police yesterday sought an indictment against five more Ha Noi officials for inflating printing costs for "Project 112", a notorious computerization plan turned scam. The project was halted last April after massive corruption was discovered and a deputy portfolio minister arrested.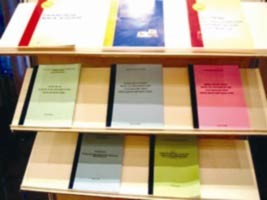 Documents printed for Project 112
Those to be indicted include the directors of three state-owned printing companies: Nguyen Hong Son, 44, of the Transport Printing Company, Pham Tran Viet Anh, 42, of the Study Encouragement Printing Company, and Le Tuan Anh, 45 former head of the Friendship Printing Company.
Also to be indicted are Pham Thi Tuyet Lan, 39, chief accountant of the Justice Publishing House, and Le Thi Hoang Yen, accountant of the Transport Printing Company.

Viet Anh and Tuyet Lan are in police custody while the remaining three have been put under house arrest.
According to police, the five, now facing charges of "power abuse", indirectly signed nearly 30 contracts worth around VND3.8 billion (US$237,000) to print documents to serve Project 112. But they had inflated prices well beyond market rates to pocket the difference. They then allegedly 'thanked' Vu Dinh Thuan, Head of Project 112, and a former Vice Chairman of the Government Office with VND600 million (US$37,500).
Thuan, who was holding deputy ministerial rank, was arrested last September.

But the printing fiasco is only part of a huge corruption picture, police said. From Project 112's launch in 2001 to its halting, it incurred losses of hundreds of billions of dong. (VND100 billion = US$6.25 million)

Auditors said the project had consumed nearly VND1.2 trillion ($72.5 million), of which VND195 billion (US$12 million) was misused or wasted. Government had earmarked VND3.8 trillion ($239.37 million) for the overall project.

On November 19, Deputy Prime Minister Nguyen Sinh Hung admitted at a lawmaking National Assembly session that the Government had made a mistake in assigning Project 112 to an unskilled management board.
So far, a total of 17 officials have been implicated in the scandal including Nguyen Duc Giao, Director of the Ministry of Justice's Justice Publishing House, Luong Cao Son, Secretary of the Project's Management Board, Nguyen Thi Phuong Hoa and Nguyen Thi Minh Thieu, Acting General Director and Deputy General Director of the Vietnam Book Distribution Corporation, respectively, and other senior officials.