Anti-drug criminal policemen in the central province of Nghe An yesterday said that they arrested an armed Laotian man who was trafficking drug into Vietnam.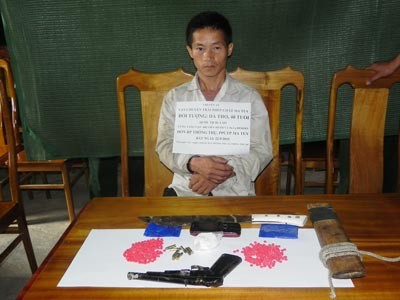 Da Tho is arrested for trafficking drug into Vietnam (Photo: SGGP)
Policemen have set up a team to follow the drug trafficker. On May 22, in the border gate in Muong Phu village in Que Phong District, policemen arrested Da Tho, 45, an inhabitant of Tam Tay village in Sam To District of Lao who was trafficking drug into the country.
Searching on Da Tho's body, policemen detected a home-made gun, 8 bullets, a knife, 400 synthetic drug tablets, 36.5 gram heroin and some other items.
Police are investigating the case to find out the origin of the drugs.
Under Article 194 of the Vietnamese Penal Code, twenty years of imprisonment, life imprisonment or capital punishment can be given to those who are convicted of illegally stockpiling, transporting, trading in or appropriating heroin or cocaine weighing one hundred grams or more.
The same penalties are also given to those who commit the crimes in one of the following circumstances: opium resin, marijuana resin or coca plasma weighing five kilograms or more; marijuana leaves, flowers, fruit or coca leaves weighing 75 kilograms or more; dried poppy fruit weighing 600 kilograms or more; fresh poppy fruit weighing 150 kilograms or more; other narcotic substances in solid form weighing 300 grams or more or in liquid form measuring 750 milliliters or more.