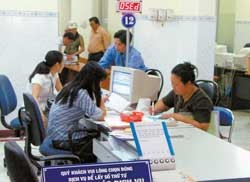 Notary Office in HCMC
Department of Justice of Ho Chi Minh City has just formally asked the district People's Committees and six Notary Offices not to certify foreigners' authorization of their spouse to submit marriage papers.
When submitting marriage papers, the two sides must present their ID card, passport, family record book. When getting back the marriage certificate, both of them must be present to sign the certificate and register's book.
Ministry of Justice has had regulations on this issue since 2004. However, there have still been cases of authorization contracts certified by Ho Chi Minh City Notary Offices.