Buon Don District Police in the Central Highland province of Dak Lak have decided to prosecute 29-year-old Tran Anh Thi, a former forest management official at the Yok Don National Park for illegal logging of timber.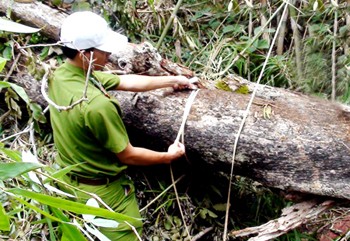 An official measuring the girth of a felled fragrant timber tree in Yok Don National Park (Photo: SGGP)
Four other accomplices of Thi will also be prosecuted for the same charges. 18-year-old Vu Manh Vuong, 22-year-old Ngo Van Thuan, 26-year-old Tran Van Cuong and 22-year-old Nguyen Van Nam were all from Dak Lak Province and helped Thi in chopping down trees in the Park.
On August 28, the police in Buon Don District discovered a logged rare fragrant tree in the Yok Don National Park. The tree was hidden about 30 meters from the normal patrol path of the forest management officials, where it could not be found.
Cuong, Nam, Vuong and Thuan admitted that they had been hired by Tran Anh Thi to chop the trees in Yok Don Park. Thi told them that he would deal with the forest management force, they added.
Thi was a former forest management official at the park and was sacked from his post in September last year. The police force has so far seized about 7.4 cubic meters of logged fragrant timber.