The Police Investigation Agency in the central province of Nghe An on Monday arrested Phan Sy Tuan, head of Nga My Forest Management Station in the truck accident case.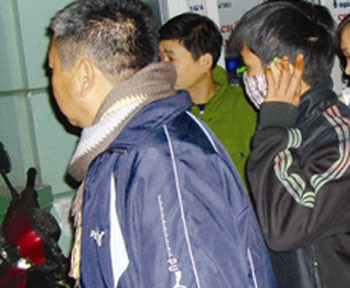 Dao Cong Thang (in muffler) on way to the police station (Photo: Tien Phong)
Nga My station falls under Pu Huong Natural Reserve in Tuong Duong District.
Earlier, the agency had arrested Dao Cong Thang, head of the Quy Hop District Forest Management Station and his subordinate Nguyen Kim Hung.
Dao Cong Thang named Trinh Thanh Long, deputy director of Pu Huong Natural Reserve, responsible for asking Thang and Hung to escort the truck carrying wood logs to Quy Hop town for him.
However, Long refuted Thang's statement claiming it to be false and fabricated, saying he had nothing to do with the above truck carrying logs of wood that was involved in an accident.
Related articles:
Two forest officials present in overturned truck carrying wood
Tragic truck accident in Nghe An Province under investigation
Fatal truck accident kills 10, injures 5 in Nghe An Province