Dang Hung Vo, former deputy minister of the Ministry of Natural Resources and Environment, held a dialogue with residents of Van Giang District in Hung Yen Province in an effort to explain his shortcomings and related decisions in a land eviction case in April.
The dialogue lasted about three hours and roughly 30 residents of the district met with the former minister yesterday afternoon.
"I hold myself responsible for my failure in supervising the proceedings in the right manner while I was in office. I am the real reason for your losses," he told Van Giang residents, explaining his actions eight years ago when he was a deputy minister.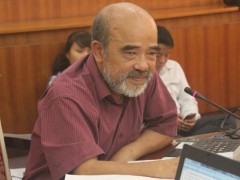 Former deputy minister Dang Hung Vo (Photo: SGGP)
On June 29, 2004, Vo was ordered by the minister to sign Statement No. 99 for the Prime Minister to withdraw land from local residents to build the Hung Yen-Hanoi expressway, which would run through Van Giang and the Van Giang Urban Trading and Tourism Area.
On June 28, 2004, one day before Vo submitted Statement 99, the Hung Yen Province People's Committee also submitted a document to the Prime Minister about withdrawing land and allocating land to the Viet Hung Urban Investment and Development Joint Stock Company, the project's investor.
Asked by residents why he had so hurriedly submitted the Statement to the Prime Minister before the valid date, Vo said, "The project is a major one, so if the land withdrawal could have been carried out quickly, it would have helped boost the progress of the project. The route under question is strategic and benefits Hung Yen, Hanoi and even Van Giang residents."
These households, which are among the 1,720 households to be affected by the construction of the Van Giang Commercial and Service Urban Area, were forced to withdraw from their land since they had not agreed to hand it over to the investor, although the project was approved by the Prime Minister in 2004.
The families did not agree to accept the rate of compensation of VND48 million (US$2,300) per hectare, since they considered the sum too low. Meanwhile, 1,554 other households have received compensation and given up their land to the investor--Viet Hung Urban Investment and Development JSC.
For his part, Dang Hung Vo said the procedures for land acquisition of the project were lawful and he hoped that the dialogue would help people understand the need to speed up this project for the overall development of the City and the whole of Van Giang District.