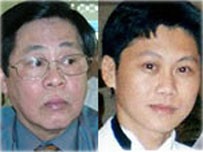 Mai Van Dau (left) and his son, Mai Thanh Hai.
Former Deputy Trade Minister Mai Van Dau has officially been indicted on bribery charges, allegedly committed while he was still Deputy Minister of Trade.

The indictment decision by the State Prosecution Department was served on him in prison on May 16. He is going on trial for taking bribes worth US$6,000 from Nguyen Cuong, Former Deputy Chief of the Ho Chi Minh City Industrial and Export Processing Zones Authority (HEPZA), who is being held in relations to obtaining US export quota through bribery.
16 other internees in the case, including Mai Thanh Hai (Mai Van Dau's son), Le Van Thang ( former deputy director of the Import – Export Department - IED), Bui Hong Minh (an expert of the IED)...are expected to be put on trial in Quarter 3 of this year.