Police officers arrest Nguyen Viet Tien (in black) at his house in Ha Noi
Viet Nam's police arrested former deputy transport minister Nguyen Viet Tien on April 4, 2006 over a major corruption scandal and he will be held in police custody for four months.
Tien, born in 1950, was arrested at his house in Ha Noi for his infringements that "had caused serious consequences."
Police raided his house from 5:35 pm to 6:45 pm. Then, they moved to his office and the next raid finished at 8:24 pm.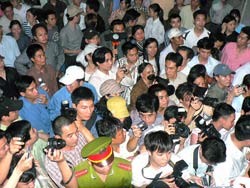 Many people witness the arrest of Tien
Tien became a deputy transport minister in 1998 as general director of Project Management Unit 18 (PMU18), the Ministry of Transport. PMU18 general director Bui Tien Dung was arrested in January 2006 for gambling and is facing charges of corruption and bribes.
Also on April 4, police questioned a woman named Ha, said to be Tien's mistress, about expensive presents he gave her and about his wealth.
Related Articles:
PM Accepts Transport Minister's Resignation
Prime Minister Proposes Dismissal of Minister
Police: Enough Evidence to Prosecute Deputy Transport Minister
Police Propose Suspension for Deputy Minister