Former Deputy Transport Minister Nguyen Viet Tien, who was taken into police custody in April last year for his role in the Project Management Unit 18 scandal, has been released on bail.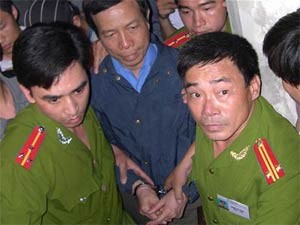 The file photo shows Foremer Deputy Transport Nguyen Viet Tien being arrested by the Police last year.

Mr. Tien's family was seen yesterday at Detention Camp B14 to stand bail and pick him up. Twice before they had tried to have him released, without success.

His counsel, Mr. Hoang Van Dung, confirmed that the Supreme People's Procuracy had let his client out.

Nguyen Viet Tien was the first person detained in the notorious corruption case, and is the first to be released on bail.

The charges against him include "deliberately violating state regulations on economic management", "abuse of privilege" and "dereliction of duty", resulting in the construction of shoddy roads and bridges that required major mending at great expense.