The investigation agency under the Ministry of National Defense yesterday notified their decision to prosecute and place in custody Vu Quoc Hao, former general director of the Finance Leasing Company II (ALCII ) under the Bank of Agriculture and Rural Development.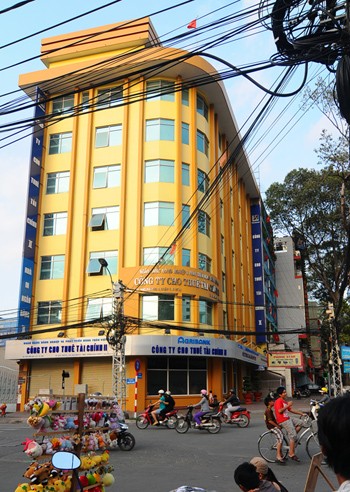 The Finance Leasing Company II offices in HCMC
Mr. Hao is been prosecuted for "Abusing his position and power while on duty". The investigation agency also notified their decision to raid his house and office.
Two other officials, Ton Quang Viet, former deputy head of the company's finance leasing department and Dang Van Hai, director of the Quang Vinh Construction and Trade Ltd Company were charged with the same offence.
The Finance Leasing Company II has violated many regulations of management and usage of State capital.
The State audit department unearthed that in 2009 the company had lost VND3 trillion (US$143 million) and might suffer a further loss of VND4.6 trillion due to unsound investments in leasing of properties.
One of the main wrongdoings leading to the company's huge losses is that it had bought machinery and equipment without determining their price. Notably, the company bought a 250 ton hydraulic crane at VND 65 billion from the Quang Vinh Company, which had bought the crane at VND32 billion.
ALCII is an independent operating unit of the Bank for Agriculture and Rural Development. The company carries out finance leasing contracts, acts as guarantor in fields related to finance leasing and assists companies with capital to equip machinery etc.
The company headquarters are located in HCMC with many branches in Southern provinces and cities.
ALCII has let out properties to about 650 domestic and foreign companies with over 1,200 leasing projects valued at VND1.2 trillion.