The Hanoi People's Court on August 3 sentenced the former General Director of Project Management Unit 18, Bui Tien Dung, to three years in jail for "deliberately acting against the State's regulations on economic management, causing serious consequences."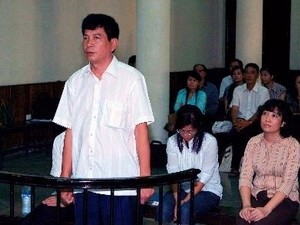 Bui Tien Dung stands trial (Photo: Vietnam News Agency)

According to the indictment, during his term of office from 1998-2005, Dung lent cars for wrongly-purposed uses, leading to the loss of almost 2.7 billion VND.
Dung is already serving a 13-year term, which was imposed in 2007, for illegal gambling and for bribery in his attempts to cover up the crime.
His accomplices Vu Manh Tien, vice chief of the PMU 18 office, got a two-year imprisonment, and Bui Thu Hanh, an official of the Finance and Accounting Department of PMU 18, was sentenced to 14 months and five days in prison for the same charge of 'abusing positions and powers while performing official duties' in pursuant to Article 281 of the Penal Code.
The duo will be prohibited from holding positions within three years after serving their sentences.
Of the two other defendants, Le Thi Thanh Hoa, deputy head of PID 6, received a three-year suspended sentence plus five years of probation, and Nguyen Thanh Son, also deputy head of PID 6, got a two-year suspended sentence and will be prohibited from holding positions within three years following his sentence for the same charge.
The court requested the defendants reimburse the sums of money they had misappropriated in the case.