Former Major General and chief inspector of the Ministry of Public Security, Tran Van Thanh, will be brought to court soon on the charge of "Abusing freedom and democratic rights to infringe the State's interests, and rights and legitimate interests of organizations and individuals."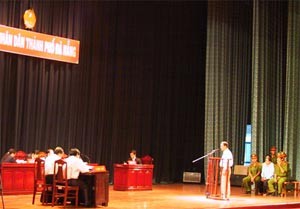 Former Major Dinh Cong Sat in the dock on September 23, 2008 in Da Nang. This hearing was halted, for the Court was provided information showing former Major General Thanh's possible involvement in the case. (Photo: VTC News)
Thanh was dismissed from his position in late 2008 and was prosecuted in February 2009.
Deputy tribunal president of Da Nang City People's Court, Nguyen Thanh, said on July 16 that his agency received the indictment and the decision to prosecute Thanh from the city People's Procuracy.
Three other men to be in the dock with Thanh, 56, are former Major Dinh Cong Sat, 44, of the Da Nang City Police; former Lt. Col. Duong Tien, 53, former chief representative of Ho Chi Minh City Police newspaper in Hanoi; and Nguyen Phi Duy Linh, 40.
They have been prosecuted on the same charge as Thanh, according to Article 258 of the Penal Code.
The trial is scheduled to last two days from July 20-21.
Last year, the court opened a trial for the three men and during the hearing, they gave evidence against Thanh.
The court's deputy tribunal president decided to halt the hearing and hand the dossier of the case back to the city's People Procuracy for an expanded investigation.