Binh Dinh Province Police April 9 arrested the former principle of Qui Nhon University, Tran Tin Kiet, for alleged financial irregularities and tax evasion.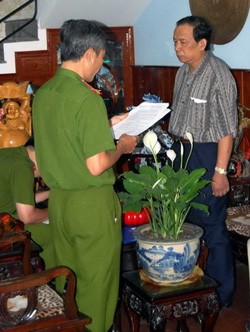 Former Qui Nhon University Principle, Tran Tin Kiet, listens to the order to search his house April 9 (Photo: Tuoi Tre)
The former department head, Tran Xuan Canh, and his deputy head of security and boarding, Le Van Phuc, were also arrested.
After media reports covered the issue, the Ministry of Education and Training May 2008 began to investigate the university. The province's police also took part in the case. The ministry decided to suspend Tran Tin Kiet in January 2009.
The three are alleged to have shared billions of dong of income from services, evading taxes and owing lecturers over VND20 billion (US$1.15 million) of working overtime payment. They also illegally collected VND395 million ($23,000) from watching students' bicycles.
The police have also searched their houses and offices.