The police of Hai Phong City in northern Viet Nam have decided to seek an indictment against the former vice chairman of the municipal People's Committee [local government], Vu Chi Thanh, for his misconduct in allocating public land under his authority.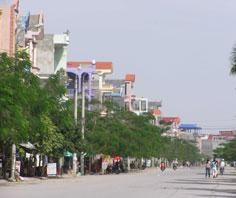 Quan Nam residential area
Vu Chi Thanh was accused of "dereliction of duty". When he was in office, Thanh had sent notes to allocate public land to many officials, bringing the number of households' allocated land from 374 to 948, thus disorganizing the planning in the Quan Nam residential area.

The Government Inspectorate has concluded "most of people allotted land were officials, departments or agencies of the Municipal Party's Committee, People's Council and People's Committee".
Thanh was also charged for being involved in the notorious land scam in Do Son in 2005, but was let off with a penalty.

Investigators have recommended that Hai Phong police review the involvement of Vu Chi Thanh in the Do Son case, given the fact he had signed two decisions to allot land in Do Son town to many officials.

The police also arrested Nguyen Van Phong, the former head of the Land Management Office under Hai Phong Department of Natural Resources and Environment for "dereliction of duty". Phong had previously been sentenced to three years in prison for his transgressions in the Do Son case.