After two days of trial hearing of nine accused Vinashin Group leaders, a representative of the Hai Phong City People's Procuracy on Thursday proposed a 19-20 year jail sentence for Pham Thanh Binh, former chairman of the group.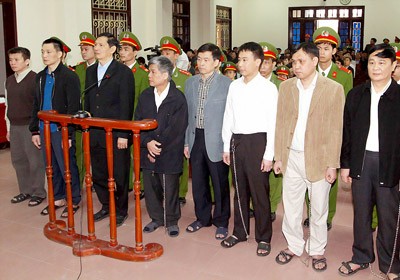 Former chairman of Vinashin Pham Thanh Binh (3rd, L) faces a possible 19-20 year prison sentence
The representative also announced possible prison terms for the other eight defendants.
    
Accordingly, Tran Van Liem, former head of the Vinashin Supervision Committee could receive 17-18 years; To Nghiem, former director-general of Hai Ha Economic Zone Development Investment Company could receive the same sentence.
Nguyen Van Tuyen, former director of Hoang Anh Shipping Company could get 15-16 years; Trinh Thi Hau, former director-general of Vinashin Finance 13-14 years; Hoang Gia Hiep, former deputy director-general of Vinashin Finance 12-13 years.
Tran Quang Vu, former director-general of Vinashin and Do Dinh Con, former deputy director-general of Hoang Anh Shipping Industry Company might face 11-12 years each; and Nguyen Tuan Duong, former chairman of Cuu Long Investment Company 3-4 years.
According to the People's Procuracy, the defendants were executives of the Vinashin Group and its subsidiaries who had abused their position and power to deliberately breaking State laws to misappropriate investment funds and misdirect State capital.
In court, most of the accused admitted to the above charges, which resulted in huge damage to State property, caused deadlock in production and trade activities, and inconvenienced the country's shipping industry's foreign investments as well as thousands of workers.
As per Clause 165 of the Criminal Law, this crime means "Deliberately breaking State regulations on economic management, resulting in serious consequences."
Pham Thanh Binh was held the most responsible, being in the highest position of authority and hence is the main accused for violations committed in most of the projects.
Besides prison terms, Binh, Liem, Hiep and Hau must reimburse VND650 billion to the Vien Duong Company along with interest.
Binh, Tuyen and Con must compensate VND23 billion for damages incurred by Hoang Anh Company in the Song Hong thermal power plant project.
Vu must compensate VND18 billion to the Nam Trieu Company along with interest. Duong must pay Cuu Long VND20 billion with interest.
Financial losses in the Vinashin case

Purchase of the Hoa Sen Ship caused a loss of VND470 billion; the Song Hong thermal power construction project lost VND317 billion; Cai Lan diesel thermal power plant construction project VND67 billion; the Binh Dinh Star ship investment project VND30 billion; the sale of Bach Dang Giang ship skeleton VND27 billion.

Total financial losses caused by Vinashin group leaders totaled nearly VND910 billion (US$43 million).
 
Related article:
Vinashin executives on second day of trial