Four Iranians hired a taxi in Ha Noi and drove it to the Hoang Bo district in Quang Ninh province to rob a jewelry shop there before being arrested.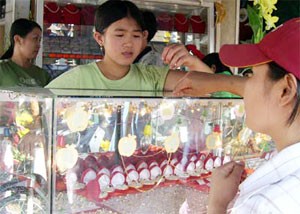 A typical jewelry shop in Viet Nam

Local police announced they have arrested four Iranians: Shamiyan Hosse, 56, Mohamad Rexa Mahaki, 52, Moh Sen Sare Ban, 33, and Isa Pour Vad, 37, for absconding with the property of a jewelry shop in the district.
The victim, Nguyen Thi Lan, residing at Lang hamlet, Hoang Bo district, said that on December 4, the four criminals got out a taxi with plate number 29V-3511 and went towards her shop. Two stood outside while the others went in and purchased a VND200,000 (US$ 12) silver ring.
They then gave Lan a US$100 bill and when she busied herself with the change, one of them opened the showcase and took a gold necklace while the other scooped up all the cash in the drawer.
They all then rushed back to the taxi and drove away. Lan said she was probably hexed because she did not know what was happening at the time.
A few minutes later, Lan began woke up and shouted for help. She was driven by a member of her family to chase the taxi with local police in tow. When police closed on the taxi, the accused jumped out and ran to a manhole to hide the stolen cash and jewels.
Hoang Bo District Police detained the four and seized five gold chains, VND2,150,000 ($143) in cash and the taxi.
At the police station, the four claimed they had used their visas as a deposit to hire the taxi in Ha Noi and drove it to Quang Ninh to carry out the theft.