Four drivers of gasoline transport tankers were suspended from their jobs for adulterating and stealing petrol before delivery to filling stations in Ho Chi Minh City, reported a Sai Gon Giai Phong Newspaper journalist.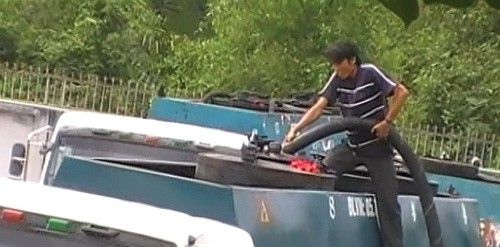 The petrol adulteration process (Photo: Thanh Nien)
Drivers Vo Minh Toan, Vu Duc Thuan, Pham Anh Tuan and Cam Thanh Tam admitted to stealing about 15-20 liters of petrol per delivery trip.
Driver Toan and his assistant Thuan were in charge of tanker No.57K-8275, belonging to the Vietnam National Petroleum Corporation (Petrolimex).
It was learnt later that both would first drive the tanker to Hoang Quoc Viet Street where they extracted petrol from the tanker, mixed it with other cheaper substances and then drove the tanker to deliver the adulterated fuel to various filling stations managed by Petrolimex.
The other two drivers of the Petrolimex Company were Tuan in charge of truck No.57K-7616 with Tam in charge of truck No.57K-2316.
A representative of Petrolimex said that the company had asked the police to investigate the case thoroughly and asked its staff to conduct a detailed check of the entire process from the first stage to the last, whereby petrol reached consumers.
Under-cover journalists investigating into the secret world of petrol adulteration and black marketing in Ho Chi Minh City discovered a murky world, which had possibly been the cause of a spate of unexplained vehicular fires nationwide, causing much public concern.
According to regulations, a 16,000 litre capacity gasoline tanker is only authorized to transport petroleum directly to petrol stations for sale to consumers. However, these four drivers made unscheduled stops, after collecting petrol from Nha Be depot, to steal and adulterate the petrol before delivery to filling stations.
The journalists detected that the trucks stopping at Hoang Quoc Viet, Dao Tri and Huynh Tan Phat Streets in District 7 included tankers from major petroleum companies such as Vietnam National Petroleum Corporation (Petrolimex) and those hired by petrol stations. All of these unauthorized stops were not scheduled by companies, nor were activities here monitored by them.