Yesterday, the HCMC People's Court started its first hearing of 24 defendants, including seven foreigners, who have been charged with involvement in a gambling ring operating at casinos in the city's luxury hotels.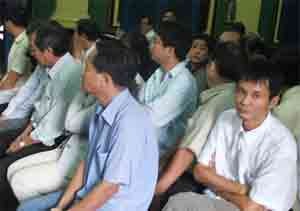 Defendants in court  (Photo by Vietnamnet)
The Supreme People's Procuracy's indictment stated that on the night May 26 2007, the Police raided gambling clubs at luxury hotels in the city, including OV at Equatorial Hotel, De Palace at Food Center Restaurant and Victoria at Duxton Hotel.

The Police arrested all the local gamblers and seized a number of slot machines.

According to Vietnamese law, any hotels above four-stars can run casinos, but only foreigners and foreign passports holders are allowed to gamble. Local people are prohibited from gambling.

Investigations by the police revealed that Dato Yap Kim San, a Malaysian, an alleged leader of an international gambling ring, was organizing such gambling clubs.

Dato Yap Kim San is alleged to have entrusted Lim Leong Seng (also known as Steven), another Malaysian, with the job of general manager. Two other Malaysians, Goh Ming Huat and Chan Chee Sing, are believed to have been his financial managers.

Between April 2006 and May 2007, Dato Yap Kim San allegedly conspired with Hua Quan Timmy (also known as Timmy Quang, a Vietnamese living in the US), and Le Thi Hong Nhung, Vietnamese, to lure local people to the casinos. Quang and Nhung were said to have offered a commission of 3.5 percent of bets placed by locals.

The prosecutors have indicted six with organizing gambling and 18 others with gambling.

Three defendants failed to show up at court. Lim Leong Seng, Goh Ming Huat and Chan Chee Sing, have gone missing while on bail. They will be tried in absentia. The police have issued an arrest warrant.