An 18 year old girl has been sentenced to 9 months in prison for slapping and assaulting two traffic policemen last month.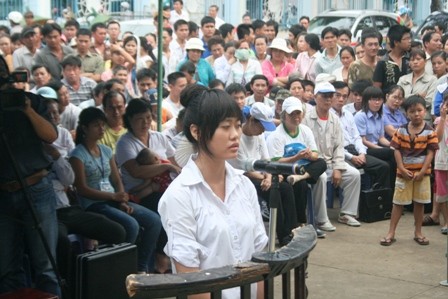 Linh being sentenced at the mobile court
The People's Procuracy held a mobile court in District 12 and sentenced Pham Thi My Linh for 9 months in prison on charges of "assaulting on-duty police officers."  Linh cried on hearing the jail term and fainted from shock.
According to the People's Procuracy, Linh and her brother were pillion riders on their mother's motorcycle on Le Van Khuong Street in District 12 on July 2.
When traffic police asked their mother, Truong Thi Hanh, for registration papers, she was unable to produce any and the officers then issued her a ticket.
While one of the traffic policemen was filling out the ticket, Hanh and Linh both tried to persuade the officer not to do so. When all efforts failed, they began to verbally abuse him and Linh even went further by slapping him on the face and then assaulting both him and his fellow cop as well. 
Hanh was subsequently issued a fine of VND3 million on four violation counts.
The entire episode was videotaped by a bystander and posted on YouTube, triggering a wave of protests from citizens and sympathy for the two policemen. A huge crowd turned up to witness the mobile court hearing yesterday.