A 22-year-old girl student from a university in Hanoi abused, clawed and punched a mobile traffic policeman on May 7 when he tried to stop her and her boyfriend for driving a motorbike without wearing helmets.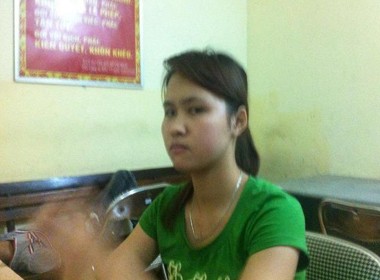 Student Huyen at the police station for further investigation
The incident took place morning of May 7 at the Truong Dinh and Giai Phong Street crossing in Hoang Mai District.
The student lashed out at the local policeman when he tried to stop the couple driving a motorbike with plate BKS 34 N8- 8005 for not wearing helmets.
However, even as the policeman tried to stop the duo, the girl's boyfriend who was driving sped away, which prompted the local traffic police to give chase through the city streets.
When the police finally caught up with them, they ordered the couple to show their papers, which they refused to do and accused them of being 'fake'.
While the police were dealing with the case, the girl suddenly pushed Nguyen Thanh Sang, one of the policemen, who was keeping order at the scene, to the ground. 
She then viciously tugged at Sang's T-shirt and punched him hard on the face till he bled. Taking advantage of the distraction, her boyfriend ran away from the scene.
After about an hour, her boyfriend returned and the couple continued to insult the law enforcement officers.
The girl student was later identified as Nguyen Thi Thanh Hien, who is currently studying at the Thang Long University while her boyfriend Tran Duc Thanh, 25, is a student at the Open University.
They were both taken to the Hoang Mai District police station for further questioning.