Huynh Huu Nhan, who was arrested after his failed robbery of 400 taels of gold at jewelry shop in District 7, HCM City, killed himself at the city-based Chi Hoa prison.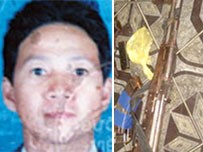 Huynh Huu Nhan and the AK47 he used in the robbery. (Photo: Thanh Nien)


Early on the morning of March 22, a guard found him hanged in the toilet block of the prison's clinic, said HCM City police.
According to initial reports, the noose he used for hanging himself was likely made from bed sheets.

He had been at the prison's clinic since March 11 and had recovered from a stabbing wound he suffered during the robbery on March 7.
The police are conducting an autopsy before giving his body to the family.
The police had charged Nhan, 53, with attempted murder, robbery, illegal use of military weapons, illegal possession of military weapons, and impersonating as an official.
Related article:
Gold robber dresses as policeman