The HCMC police reported some of their initial findings from the investigation on the gold heist at a house in District 7 on March 7. The thief had dressed as policeman.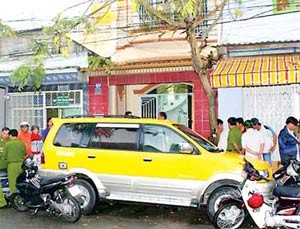 The police carrying out initial investigations at the house (Photo: SGGP)
Residents near the house at 49 Street No. 53, District 7, heard at least ten shots and later found an injured man dressed in a police captain's uniform.
The police reported that the alleged thief, real name Huynh Huu Nhan, had used a fake ID and was known as Pham Thanh Ha from the north central coast province of Thanh Hoa.
According to some initial investigations, the police suggested that Nhan had had some friends buy the police uniform, a K59 machine gun with 10 bullets and an AK riffle in Cambodia.
Later, Nhan allegedly arranged to rent the house at 49 Street No.53.
He had also rented a yellow car with the registration 52X-8838.
On the morning of March 7, Nhan called in at the Tan Kim Hieu jewelry shop in District 7 for a transaction of 400 taels (520 oz) of gold at his house. The total transaction was worth of VND7.85 billion ($448,700).
The owner of the jewelry shop quickly sent four staff and two security guards to his house.
When approaching his house, the shop assistants became trustful of Nhan as he wore police uniform.
Two security guards waited outside while the assistants waited on the ground floor as Nhan wet up stairs.
Nhan allegedly came downstairs with the AK rifle and shot many times at the assistants. One of the assistants, Nguyen Quoc Cuong, was seriously injured.
Nhan shot at the remaining three left but the rifle became jammed.
Another assistant, Toan, quickly rushed forward and pinned Nhan down. While fighting with Toan, Nhan was seriously injured by the bayonet on his rifle.
Cuong seized the opportunity and raised the alarm.
The two security guards recognized that their colleagues were injured and immediately sent them to the Cho Ray hospital for treatment. The other employees held Nhan before the police arrived and moved him to the hospital.
Nhan, 46, is recovering at Cho Ray Hospital in District 5 after receiving his injuries.
The police also said that from February onward, Nhan visited the Tan Kim Hieu shop and often engaged in small transactions in order to gain the owners' trust.
On March 9, the police presented certificates of merit and rewards to the six employees.
The investigation continues.