Unemployment insurance and capital gains tax are among several new social security and tax provisions that have taken effect January 1.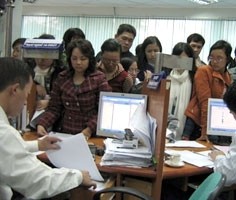 Personal income tax payers register at the tax office in Ha Noi in December, 2008. The Government has made several changes to the tax regime that took effect January 1, 2009. (Photo: Lao Dong)
Now, workers who lose their jobs will get an unemployment benefit of 60 percent of their last salary under a new decree released by the Prime Minister on social and unemployment insurance.

They will be eligible for the benefits if at least 12 months' premiums are paid in the two years before they become unemployed.

The minimum wages have increased to up to VND800,000 a month at State-owed enterprises and VND1.2 million at foreign enterprises. But they are classified into four categories depending on the living standards of various geographical regions in the country.

The maximum levels earlier were VND620,000 at State-owned companies and VND1 million at foreign firms.

Tax amendments

Capital gains tax has been introduced for the first time in the country and will cover profits from securities and property trading. Other incomes like prizes, copyright, franchise, inheritance, and gifts will also be taxed hereafter.

Many goods and services not taxed so far have also been brought under the tax net. They include equipment, machinery, specialized transport means, and others.

Income from sports and cultural activities like exhibitions, art shows, films, and publishing will be taxed at 5 percent.

Agencies making geological surveys for clients will have to pay a tax of 10 percent on their fee and map publishers will have to pay a similar rate as royalty.

The standard deduction for personal income tax has been reduced from VND5 million to VND4 million a month, with tax payers allowed a deduction of VND1.6 million for every dependent.