The Government has asked Ha Noi to verify land planning in four communes of Hoa Binh province being merged with the city after the public raised the concern over violations in approvals of investment projects.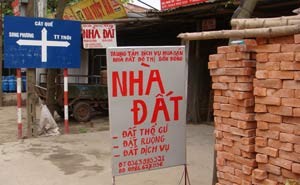 A board advertises land for sale in Ha Tay, it is now a part of Ha Noi. (Photo: SGGP)
In a dispatch to Ha Noi People's Committee, Deputy Prime Minister directed the city authorities to check project approvals, investment licenses and land transfers in localities merged with Ha Noi.

The deputy PM also asked the Hoa Binh People's Committee to seriously review mistakes in project approvals, investment certificate and make land transferences public. The province was told to report to the PM with their results in first quarter of 2009.
These instructions came after the Ministries of Construction, and Natural Resources and Environment investigated land transfers of Hoa Binh People's Committee in four communes of Luong Son District.
The Ministries had to check and report to the government as the media had said a flood of investment certificates and large amounts of land transfers had caused much confusion.
Ha Tay province and Me Linh District of Vinh Phuc province and four communes in Luong Son District, Hoa Binh Province were merged with Ha Noi August 1 2008.