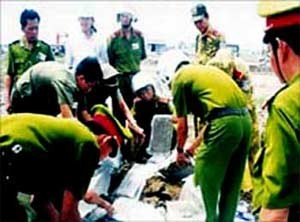 A large quantity of drugs is destroyed after the police's raid.
The police arrested a drug dealer yesterday, alleged to be involved with another drug ring that regularly supplied drugs manufactured in the Province of Nghe An to the New Century Nightclub. The man has been moved to Ha Noi for further questioning.
So far, five people suspected of being involved in crimes committed at the New Century Night Club have been arrested for allegedly trafficking and storing illegal drugs.
An official from the Police Investigative Bureau against Drug Criminals (PC 17) revealed that immediately following the arrest of the nightclub's owner, Nguyen Dai Duong, his father sent a petition to the agency insisting that his son was innocent.
The petition described Duong as an automobile trader once before turning his interest to the entertainment industry. While working as a Manager at the New Century Nightclub, his goal was to provide a high-class entertainment facility for local residents and foreigners. He also wanted to prove that a nightclub could flourish in the heart of the capital without allowing criminal activities such as drug trafficking and prostitution to take place there.
Contrary to the contents of the petition, however, police have obtained statements from drug traffickers that have admitted they regularly supplied ecstasy pills to the nightclub.
In a recent press conference, Colonel Nguyen Anh Tuan, Deputy Director of the PC17, said that he himself had witnessed drug addicts using heroin in the nightclub without any fear of being caught.
On the evidence obtained, Nguyen Dai Duong will not only be prosecuted for the crime of drug storage but also for illegally organizing their use at the nightclub.
Not only involved in the sale and storage of drugs, the nightclub is also alleged to have organized indecent activities for its customers. Security guards at the club reportedly turned a blind eye to the use of ecstasy there and did nothing to prevent people from dancing in the nude or having sex in full view of the public.
For that reason, the investigative agency will charge the security guards involved and consider appropriate penalties against them.