After the national media disclosed illegal and unsafe animal product trade and processing in Hanoi area, city's inspectors began checking animal product processing September 22.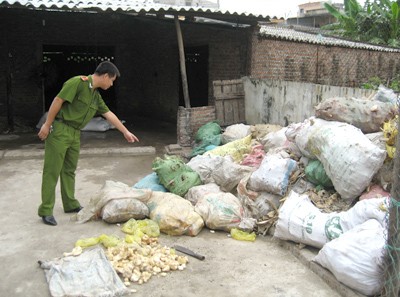 Pigskins are processed within 20 days after being bought, all were found to be rotten. (Photo: Dat Viet)
The inspection team found tens of tons of animal products such as cowhides, pork fat, bones and ox's horns without clear origin in some households in Thuy Ung village, Hoa Binh Commune, Ha Tay, Hanoi.
The animal products, which were being prepared for sale nationwide, were rotten and causing pollution to the local environment.
The team found many violations concerning environmental damage, such as inadequate waste water treatment systems, they lacked specialized tools to process and preserve animal products and did not have plans to protect the environment.
Some owners said each shops sell from 15 to 20 tons of leather, bones and horns of at VND20,000 – 25,000 per kilogram.
The inspection team also collected samples of wastewater and leather for further testing and will advice authorities on appropriate penalties.