Several bystanders were injured when a man attempted to rob a gold shop in Hanoi by using explosives to blow up the shop at 124 Nguyen Thai Hoc Street in Ba Dinh District on June 21.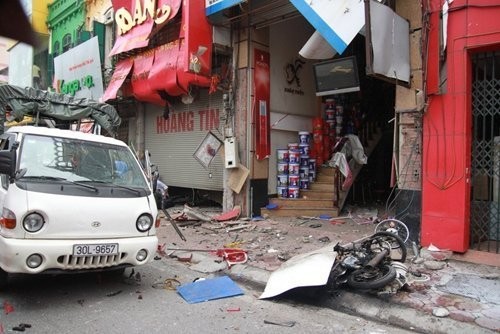 The gold shop after the bomb blast
However, the police were quick to arrest the culprit, Ta Van Thanh, 25, hailing from the northern province of Bac Giang.
Thanh confessed at the police station that he had bought four kilograms of explosives in the northern province of Lang Son with the intention of robbing the gold shop.
According to the police, Thanh comes from a poor family and he had come to the northern province of Lang Son to work as a steward.
During the course of his work he became acquainted with some bad elements who taught him how to use explosives.
Thanh drove through many streets in Hanoi searching for the right gold shop to rob and settled on the Hoang Tin shop on Nguyen Thai Hoc Street.
On the night of June 20, he hired a room close to the gold shop and the next morning at 10am he made his way to the shop with a knife, electronic jack and a plastic bag containing explosives.
When he entered the shop he placed the bag with explosives on the counter along with a sheet of paper that read, "I need money-and if you don't give me money-I will blow the shop up".
The owner of the shop remained calm on reading the paper and stalled Thanh by pretending to ask him the amount of money he wanted and at the same time made a grab for the bag so he could throw it outside the shop and shout for help. Suddenly frightened of being caught, Thanh threw the bag on the floor of the shop and ran away from the scene.
A moment later, the bomb inside the bag went off, sending glass and debris hurling onto the street. 15 people were injured in the explosion including a truck driver, several bystanders, and a group of employees from a shop nearby, who were actually rushing to the scene to help the shop owner. A motorbike near the scene caught fire and many parked motorcycles in the vicinity were also damaged.
Thanh ran through many streets in order to flee from the blockage imposed by the police, but was soon caught outside a house on Cat Linh Street.
Police are currently holding him in custody for further questioning.