Police in Hanoi's Hoan Kiem District raided a large unlicensed tobacco shop situated on Hang Hanh and Bao Khanh Streets on September 10 and seized more than 2000 packs of contraband cigarettes.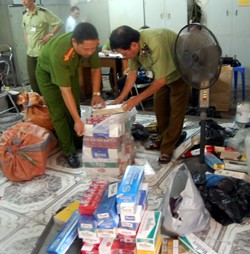 Hanoi police seize more than 2000 smuggled cigarette packs from a shop on Hang Hanh and Bao Khanh Streets.
The police also caught some people selling smuggled foreign cigarettes on the same streets and seized more than 300 packs. They detained Nguyen Bich Hanh, Pham Kim Hanh, and Duong Thi Hien, all residents of the capital.
They found a further 700 foreign packs and 900 packs of locally-made cigarettes hidden in trees and lamp-posts.
The sellers used empty packs for customers to identify while stashing away cigarettes elsewhere, bringing them only once deals were done.
The police are investigating.