Police in Hanoi rescued an 11-year-old boy from kidnappers on November 19 and returned him to his mother in Ha Dong District in Hanoi.
On the afternoon of November 18, 11-year-old Truong Le Hung was on his way to his tutor's house for extra classes, when two men blocked his path. The men told him that his mother Nguyen Thi Thu Hang had just been hit in a traffic accident and urged Hung to follow them to the hospital to see his mother.
After Hung got into the car, they forced Hung to take two sleeping pills, saying that the pills would help Hung maintain his calm when he visited his mother.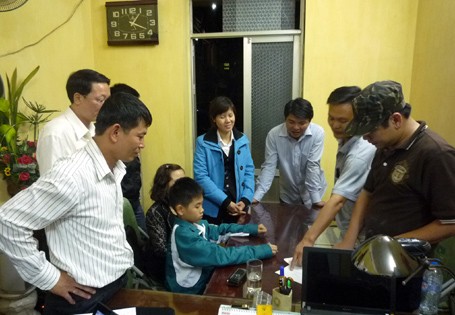 The police rescue Hung and bring him back to his mother (photo Tienphong)
They then made phone calls to his mother on afternoon of November 18, asking for a ransom of VND200 million (US$9,600).
On her relatives' advice, Hang reported the case to the district police.
Police investigators later found the kidnappers and the boy at Hoang Long Hostel in the northern mountainous province of Hoa Binh.
They rescued Hung and arrested the two kidnappers Nguyen Xuan Ngoc and Dinh Van Thang, both 21-years-old from Luong Son District in Hoa Binh Province and also seized three mobile phones, one motorcycle and a packet of sleeping pills.
The kidnappers are being held in custody pending further investigations.
At the police station, Thang confessed that he worked with Hang in Cau Am Hotel in Ha Dong District, and after learning that Hang was wealthy, he invited Ngoc to kidnap her son for a ransom. His purpose was to extract enough money to have a wedding party with his girlfriend.