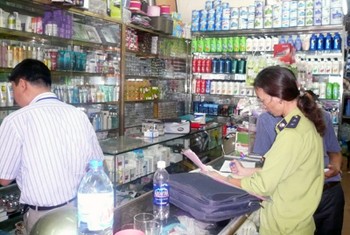 Police raid Tien Thoi cosmetics shop in Thanh Xuan District, Hanoi.
Police in Hanoi said they seized around one ton (907 kg) of smuggled cosmetics worth VND500 million during a raid on four shops in the city last week.
The cosmetics, including lipsticks, face powder, shampoo, and hair dye, had no certificate of origin, said authorities, adding that some were counterfeit products disguised as high-end brand-name items.
The shops, all run by the same owner under the name Tien Thoi, sold the fake products alongside authentic ones, said police.