Police raided the Tay Bac Quan restaurant in Nhan Chinh Ward of Thanh Xuan District in Hanoi on Monday, and caught restaurant workers red-handed in the process of cooking a pot of tiger bone gruel.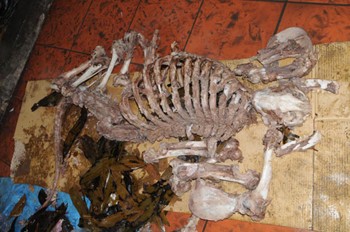 Police raid at the Tay Bac Quan Restaurant in Hanoi uncovered tiger bone gruel being cooked (Photo: Thanh Nien)
The raid was conducted after a three month long investigation of activities at the restaurant by the Hanoi police. During the raid, officials found 150 kilograms of tiger bones brewing in a pot over a fire.
Dang Tat The, head of the Institute of Ecology and Biological Resources said that the bones in the pot belonged to a tiger of the Pathera Tigris species, which has been totally banned for trade and is a protected wildlife species.
Police officials also found 15 kilograms of chamois bone being served at a table in the restaurant.
The restaurant owner was absent at the time of the police raid.