Hanoi's Department of Culture, Sport and Tourism recently issued regulations to control the size of outdoor advertising in the capital.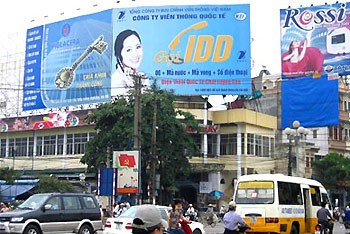 Hanoi will control outdoor advertising strictly.
Accordingly, billboards in underpasses and on pedestrian bridges and flyovers must not cover an area of more than 40 square meters and not obstruct traffic.
Advertising writing and horizontal signboards on office buildings cannot exceed two meters in height and cover 30 square meters, nor be longer than the width of the building.
Vertical adverts cannot be more than four meters in height and six meters wide.
If individuals and organizations break the law, they will be fined VND1 million (more than US$55) and over for every square meter, said Nguyen Duc Hoa, head of the department.