Ho Chi Minh City police on July 3 smashed a huge online betting ring for allegedly taking more than 1 trillion VND (47.6 million USD) in bets on football matches.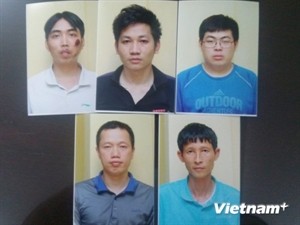 Some of the arrested gamblers in the Hanoi ring (Photo: Investigation agency)
The gambling ring used M88.com website to take bets from gamblers, who are required to deposit their money at banker account abroad. These sums will be converted into points used for betting with the banker.
The case turns complicated after bets were found to be transferred via different accounts run by foreigners.
Police arrested ten people involved, including those believed to be the ringleaders.
Also on the day, Hanoi police arrested nine football gamblers of a big online football gambling ring at the peak of the ongoing World Cup season.
The ring, which is allegedly taking up to 8.1 billion VND in bets on Euro Championships and World Cup matches, was led by Pham Quoc Tuan, 45, resident in Thanh Xuan district, Hanoi.
Police found bets were initially taken via account Tva7gd06 on the website www.bong88.com in early June, and then Tva7gd06sub01 and Tva7gd06sub02 and other sub-accounts.
In another raid, Hanoi police seized three football gamblers of another online betting ring. The case is under further investigation.