The Supreme People's Procuracy has decided to prosecute Huynh Ngoc Si, former head of the Ho Chi Minh City East-West Highway and Water Environment Project, for "taking bribes" more than six years ago.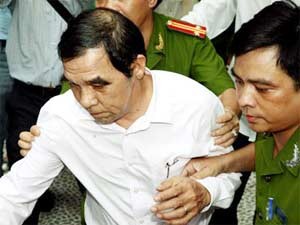 Huynh Ngoc Si, former head of the East-West Highway and Water Environment projects in Ho Chi Minh City, being arrested in February 2009. He faces prosecution for taking bribes from Japanese business executives to award consultancy contracts for the project. (Photo: VNA)
The decision was issued on January 25 after the investigators pored over 3,000 pages of documents provided by Japanese investigation agencies.
The documents reveal that Mr. Si had taken a bribe of US$262,000 from Japan-based Pacific Consultants International (PCI) in 2003. 
He was arrested last February after a Japanese court convicted three PCI executives of violating the Unfair Competition Prevention Law, which bans the bribing of foreign government officials.
The PCI admitted to the Japanese court it had paid Mr. Si bribes of $820,000 to win consultancy contracts to the projects which are funded by Japan's Official Development Assistance (ODA).
Mr. Si was already sentenced to three years in prison last September for "abuse of position and power while on duty" while he was head of the project and he has appealed.
Minister of Public Security Le Hong Anh recently told the media that it is the first time that foreign documents are being used in legal proceedings in Vietnam.