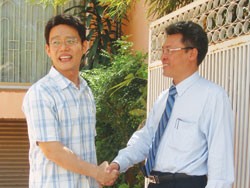 Denchai Nuntipanich (L) with his lawyer after being released in 2009 (Photo: Thanh Nien)
The Ho Chi Minh City police have taken Thai man Denchai Nuntipanich, 39, off their list of suspects in a 2000 murder case in which the victim's torso, head and limbs were found in separate bags for lack of evidence.
On June 30, 2000, when a stench emanating from Nuntipanich's room in a hotel on De Tham Street, District 1, led them there, hotel staff found the victim.
The police identified the victim as Ngu Luong of District 5, who had reportedly disappeared three days earlier. He had left home reportedly to meet Nuntipanich and collect a football bet he won.
The Ho Chi Minh City People's Court sentenced the Thai to death in May 2003. He appealed claiming he was innocent.
An appeal court overturned the verdict in May 2004 for lack of evidence and the People's Court ordered the police to begin a fresh investigation.