The Ministry of Justice and Ho Chi Minh City authorities yesterday approved the setting up of eight private notary offices in the southern metro.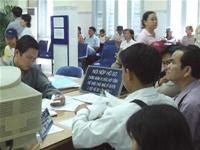 At a state notary office in HCMC
The move is expected to speed up document attestation work and relieve pressure on public notary offices which are swamped in work.
At a ceremony held yesterday to award licenses for the new offices, the head of the Ho Chi Minh Justice Department, Nguyen Duc Chinh, said he hoped the first private notary offices to be established in the city would serve residents honestly and efficiently.
According to the Ministry of Justice, it would allow the new notary offices to link up with the Justice Department's database to access accurate information.