Police have arrested six people for trafficking babies in Tung-hsing Autonomous County, China, a policeman said on May 6.
Nguyen Thi Kim Luong, 50, from the southern province of Vinh Long; as well as Truong Duc Tin, 18, Lam Kia, 66; Quach Thi Dung, 39, and Tran Van Tai, 15, from Vinh Chau District in the Mekong Delta province of Soc Trang were arrested carrying two 10-day-old infants to give to Nguyen Van Oanh, 37, in Tung-hsing, said Mr. Le Thanh Binh, the police chief of Mong Cai Town in the northern province of Quang Ninh.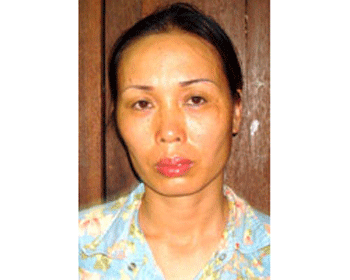 Le Thi Phuong seduces the 14-year-old  poor girl to sell her in China
PC-14, the police bureau in responsible for moral order,  has arrested two people for trafficking girls to China: Le Thi Phuong, 43, of Go Vap District in Ho Chi Minh City and Tran Van Nhan , 47, from the northern city of Hai Phong.
The pair sold a 14-year-old girl in China in 2005. The poor girl who was forced to served as a wife of a 60-year-old Chinese man.
After 20 months, she escaped, returned to Viet Nam, and denounced the pair to police.