The Police Department for Administration Management of Social Order (PC13, HCMC Police) has reported the issuance of over 2,500 identity cards five weeks after the decision to issue identity cards on weekends took effect.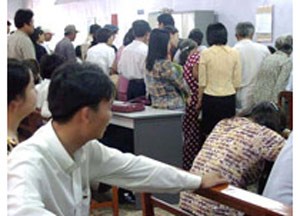 Applicants at an ID card office

Statistics have shown that 50% of the people applying for identity cards on weekends are students, while 5% are workers and officials. Over 50% of the applicants come to the ID card offices with their own photos to apply for new ID cards or renew old ID cards.

Since June 26, the PC13 office will stop taking pictures of the applicants on the spot and only accept applications with applicants' valid photos.

The PC13 office only accepts photos under one year old. Photos must be colored on glossy paper and taken on a blue or white background. The person in the photo should not wear glasses, and their hair needs to be arranged neatly enough to reveal the forehead and the ears. Also, subjects are required to wear proper clothes when having photos taken.