The Rach Chiec Traffic Police Team and the Thu Duc Animal Quarantine Station in Ho Chi Minh City uncovered and stopped the transportation of a consignment of smelly slaughtered suckling pigs and live ducks that had not been quarantined, on June 3.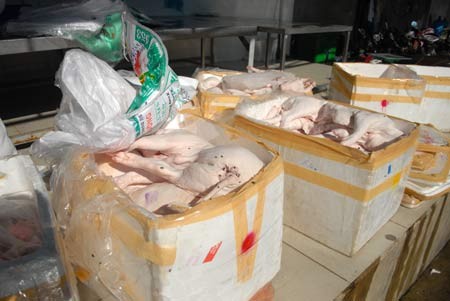 Thermocol boxes containing smelly slaughtered suckling pigs
While on duty at Tan Van Crossroad in Di An Town in Binh Duong Province early morning of June 3, the traffic police and quarantine officials found two suspicious passenger buses travelling towards HCMC.
They stopped the two buses to inspect and uncovered ten thermocol boxes containing 50 smelly slaughtered suckling pigs and animal organs and nearly 20 live ducks in the luggage hold. The consignment weighed about 600 kilograms.
Because the drivers of the two buses failed to present certificates of origin and quarantine, the police and quarantine officials confiscated the entire consignment to destroy.