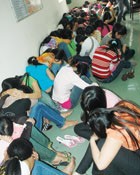 Young women at the site raided by police (Photo: Thanh Nien)
HCM City police on December 18 took in 10 Korean men after they caught them sizing up over 100 Vietnamese girls lined up by illegal marriage brokers.
They also took in for questioning the brokers, Vong A Mui, 53, Vong Cam Lien, 40, and  Ly Anh Vu, 31, Mui's son, from a house in Tan Phu District owned by Xoi Quy Minh, 37, along with 106 girls, most of them from the Mekong Delta.
The Koreans, four of whom were prospective grooms, had been brought by Yang Hong Il, 53.
The girls were provided by Linh Tham Bac, 34, and Sy Kim Tho, 46.
Minh leased his house for VND1 million (US$59) per day and was to be paid VND1.2 - VND2 million for every girl chosen by the Koreans.
Initial investigations show Yang is a professional broker who supplies Vietnamese brides to Korean men for US$6,000-10,000.
The police are further investigating the case.