Yok Don National Park's foresters and inspectors were besieged for over nine hours by loggers in the Central Highlands province of Dak Lak while looking for illegal logging activity.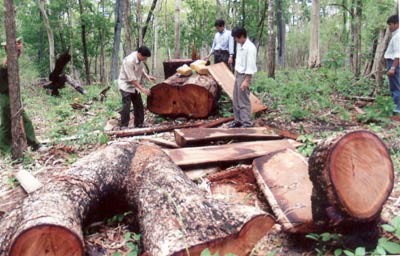 Trees are cut down illegally at Yok Don National Park in the Central Highlands province of Dak Lak
Around 11:30 pm on January 8, park foresters and officials responded to a tip from residents and found a truck loaded with four cubic meters of illegal kavazingo wood in the yard of Y Thong Bkrong's house in Tri A Village, Buon Don District.
 
While attempting to take the truck to the Forest Management Office, illegal loggers laid siege and threw stones at them to try to take back the truck, but the loggers failed.
The loggers continued to shout and surround the foresters and officials, preventing them from leaving the village.
 
At 8 am the next morning, district 20 police intervened and the foresters were released.