Despite efforts to crack down on illegal imports of rotten meat into the country, officials say smugglers are always one step ahead. Animal organs can fetch traders high prices in Vietnam, and loopholes in policies to encourage cross-border trade have only worsened the problem.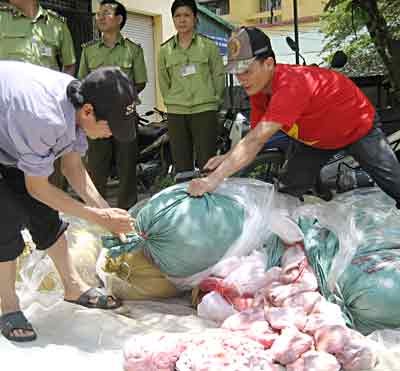 Market managers in the northern province of Lao Cao seize bags of illegally trafficked animal viscera. Experts say better policies are needed to crack down on the illicit trade. (Photo: SGGP)
Nguyen Ba Binh, head of Market Management in the northern province of Lao Cai, said provincial agencies had recently discovered 20 illegal shipments of rotting animal viscera at a Chinese border area.

One of the imported shipments weighed 1.4 tons. Officials said most owners of the illegal meats fled before they could be arrested.
Authorities in Lao Cai also seized around 700 kilograms of internal animal organs on December 18; 600 kilograms of which were pig viscera imported by Nguyen Thi Nhung from Lao Cai City, and 60 kilograms of pig hearts and livers imported by Pham Thi Phuong also from Lao Cai City.
Nhung and Phuong confessed they had illegally imported the organs from China, where the products are not consumed, and were about to transport them to Hanoi for sale. However, the organs began rotting due to inadequate preservation methods.
Quyen Sinh Tu, deputy head of the Lao Cai Border Gate Customs Department, said animal organs were often imported from foreign countries and then exported to China for processing. They would then be returned to Vietnam again for sale. The processed products are made to look attractive, but are often unhygienic and can cause food poisoning.
Market managers in Vietnam say they have uncovered several animal viscera trafficking cases, yet the meat continues to make its way to markets and eateries. Nguyen Thi Khang, head of the Lao Cai Animal Health Department, said supervision is inadequate as the department is only responsible for checking food that has already been cleared by border authorities and therefore is deemed legal.
The Ministry of Agriculture and Rural Development is also responsible for checking imported animal organs. Phung Huu Hao, deputy head of the Department for Agriculture, Forestry and Aquatic Product Quality Management, said quarantine centers have been set up in border gate areas to examine the quality of imported meat.
Vietnamese Prime Minister Nguyen Tan Dung signed a decision November 7 regarding the management of cross-border trade activities. 
The decision says that imported goods made by countries that share a border with Vietnam are exempt from tariffs. It applies to single shipments worth less than VND2 million sent by one person, once a day. Some local governments in the North previously suggested reducing the amount to less than VND2 million.
Mr. Hao said the decision created loopholes, however, which smugglers have exploited to bring illicit goods into the country.
Experts say better policies are needed to deter meat smugglers from bringing illegal products into Vietnam.
Related article:
Illegal, rotting animal viscera uncovered in North