Police, market management and heath agencies in the northern border province of Lao Cai uncovered two illegally imported shipments of decomposing animal viscera from China on December 18.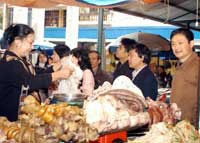 This undated file photo shows a woman selling pig viscera at a market in Hanoi
Authorities seized around 700 kilograms of animals' internal organs; 600 kilograms of which were pig viscera imported by Nguyen Thi Nhung from Lao Cao City, and 60 kilograms of pig hearts and livers imported by Pham Thi Phuong also from Lao Cai City.  
Nhung and Phuong confessed they had illegally imported the organs into Lao Cai Province from China and were about to transport them to Hanoi for sale. 
Tran Vu Hoang, head of Lao Cai Border Gate Customs Department, said provincial agencies had recently discovered six illegal shipments of rotting animal viscera at the border. One of the imported shipments weighed 1.4 tons.